Serving Las Vegas, Paradise, Enterprise, Spring Valley & Henderson Area's
Refrigerator Repair Services
Refrigerator Repair Services
One of the most important things you need to do to make everyday life comfortable and convenient in your home is have refrigerator repair service carried out when necessary. Properly functioning appliances make it easier and convenient to accomplish everyday tasks and chores like cooking, cleaning, doing laundry, and staying refreshed.
You need to have an experienced professional available to provide you with refrigeration repair work that is prompt and effective, as no one wants to wait around for their food to spoil due to a broken refrigerator. So you should keep the number of Appliance Doctor Appliance Repair available to you to provide assistance and keep all of your appliances working.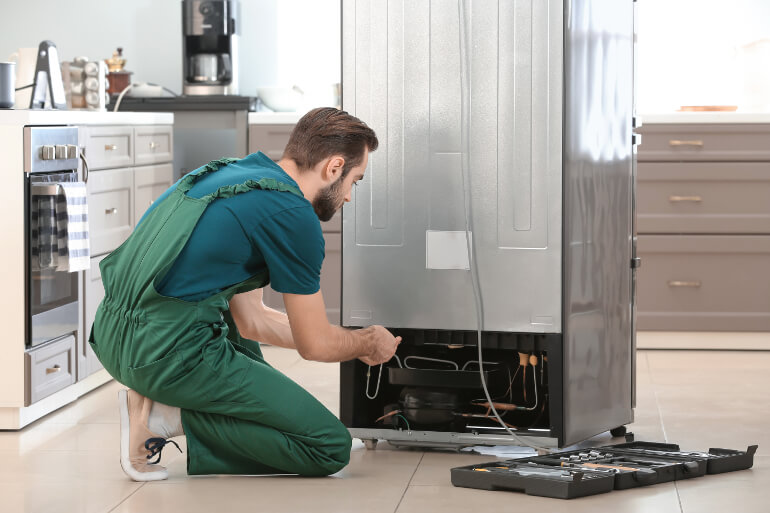 Maintaining Your Refrigerator
Your refrigerator is important for keeping food cold and fresh in your home. While proper refrigerator functioning is important throughout the year, it's especially important in the summer months when temperatures rise and food is more likely to spoil. Your refrigerator is necessary to keep both foods and beverages fresh. In addition to ensuring food safety in your home, your refrigerator also makes consuming food and drinks more pleasant by cooling them down when necessary.
Waiting to have your refrigerator serviced can make it likely that the malfunction you're dealing with will increase in severity. That's why you really shouldn't wait around and you should have a technician come in to have a look at your refrigerator or other appliance the moment you notice that something unusual is happening. If your refrigeration equipment doesn't seem to be operating as efficiently or effectively as it should, it's always a good idea to figure at what's wrong as soon as possible.
You might want to learn a bit if you can about what exactly is potentially going wrong with your refrigeration equipment so that you can help to troubleshoot things a little and give some important information to the technician before the technician arrives to take a look at things. However, it's best that you don't try to carry out any refrigeration repair yourself in a DIY job because you may do more harm than good.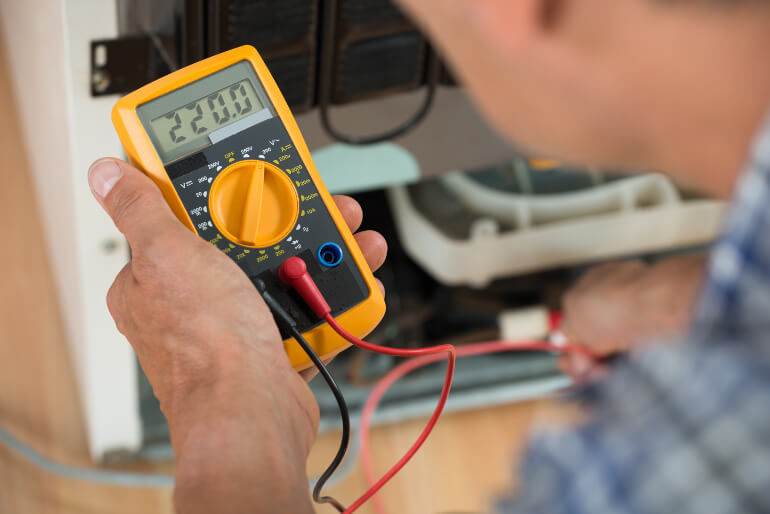 Common Refrigeration Repair Needs
When you call a refrigeration technician to arrange an appointment for refrigerator repairs, they're going ask you what exactly is going on and why you need assistance. You're going to have to be able to explain the malfunction so that they'll come out to do some fridge repair for you. There are many different problems that could potentially go wrong and create repair needs for a refrigerator.
Some of the most common problems that will create repairs needs include dust and debris that's clogging up air flow around your refrigerator or getting in the way of the functioning of the unit's condenser coils. The refrigerator compressor is a part that often experiences issues and made need to be repaired or replaced.
Over time, fuses and switches can start to malfunction on a refrigerator and need to be replaced. Another thing that's possible is that Freon will start to leak and need to be refilled and replaced.
Refrigerators can develop problematic leaks, start to freeze up, experience defrost issues, or make strange noises. These problems need to be looked into and repaired by a qualified technician. You need to have someone come out, do some troubleshooting, and arrive upon the right solution for executing the refrigeration repair you need for your machine.
Reasons to Choose Appliance Doctor for Refrigeration Repairs
It's important to find the right technician for your needs. You should look for a service that offers you a refrigerator repair cost that's acceptable and offers value when it comes to the home refrigerator repair you need.
You might want to learn a bit about Appliance Doctor if you're having some refrigerator problems. Appliance Doctor doesn't just do residential refrigerator servicing, but also commercial refrigeration repair as well. We are licensed and insured to work in the state of Nevada, and it's worth noting that we've been doing business and providing repairs to members of our community for more than 25 years now. This means that we have a great deal of experience and know what we're doing when it comes to any type of repair.
Regardless of what brand or model type you have, we can handle it. We offer full service of any refrigerator repair or any type of refrigeration repair need. You'll be happy to know that we are a locally owned a family owned company.
We're very accustomed to handling emergency situations. If you need appliance repair, it could put all of your food at risk of quickly spoiling. For this reason, you need a service to come out quickly and get things working again right way. We offer both same day and next day service depending on your needs.
Our costs are low for making the trip out to your home or business to diagnose the problem. We charge just $75 to make a trip to a residential clients or $110 to make a trip to a commercial client, however this trip-diagnostic charge is fully waived is you have us complete any repair work. We offer service everywhere around the around the Las Vegas & Henderson area.
Schedule Appliance Repair
© 2017-2023 ApplianceRepairInLasVegas.com
– All rights reserved. –
Information on this website may not be re-used without prior written consent from Appliance Doctor.
Monday-Friday: 8:00am to 6:00pm
Sat/Sunday: Closed Normal Appointments
Emergency Client Service Available
Nevada Licensed & Insured
Appliance Repair & Commercial Refrigeration