Appliance Doctor Appliance Repair Blog
Appliance Repair Articles from Las Vegas, NV
10 Warning Signs You May Need to Call a Washer Repair Service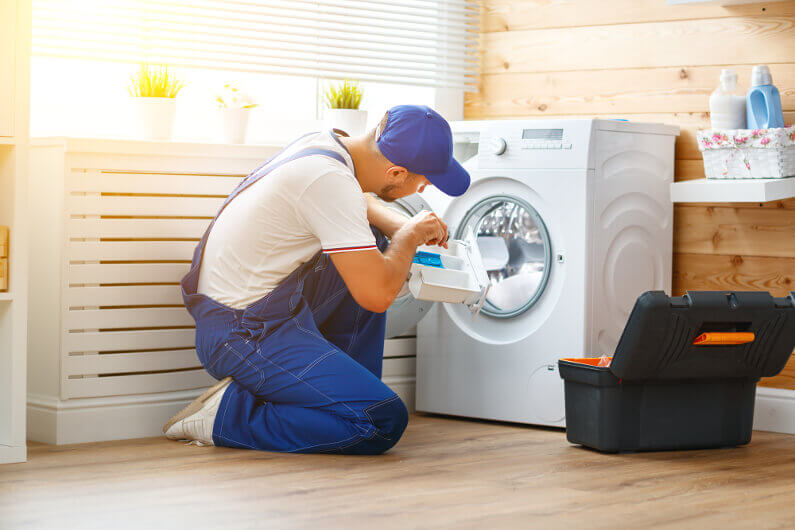 If you're having trouble with your washer, you've come to the right place. Think of this as your go-to washer repair service guide. We'll go over ten of the most common problems that signal you need a washing machine repair service.
From water in the drum to strange noises coming from the laundry room, these signs could mean there is trouble ahead. Here are a few most commonly found problems and what they mean.
1. Your Laundry Isn't Clean
There is nothing worse than putting in a full load of laundry and finding it uncleaned. Whether the clothes are still dirty, or you see parts aren't even wet, you know there's an issue.
If your clothes aren't cleaned, this usually means there is a problem. There could be a problem with a part or a sensor. A professional repair person will be able to take a look and see why your machine isn't starting or cleaning your clothes.
While it could be as simple as overfilling the washer or not using enough detergent, if the washer isn't starting at all, there's an issue. When shifting clothes and opening and closing the door doesn't cut it, call a pro to get you back up and running.
2. You Find Water in the Drum
If you open your washer and see it's filled with water, there is a problem. Water in the drum is a sign to watch for. You could also find, although it starts the cycle as normal, the clothes are sopping wet when it's done.
This could be a signal that parts of your washer are worn down or broken. This could also be a sign that there is a sensor malfunction. Call a professional to make sure you don't keep putting pressure on worn-out parts.
Replacing a part is often all you need to do. If you go too long, you could end up needing a new washing machine.
3. The Machine Squeaks
Anytime an appliance starts to make noise or squeak, is cause for concern. Thankfully, a professional washing machine expert will be able to find the culprit.
When you want to call is if this is a new and concerning sound for your machine. Your professional will come in and see what is causing your machine to squeak.
4. Your Washer Thumps and Grinds
Just as with a squeak, if you hear your machine start to thump and grind, it's time to call a professional. A thumping machine means that something isn't balanced.
While this can happen if you overload the machine or place too many shoes in it, when it happens daily, there could be an issue.
Grinding noises in particular should be looked at. When you hear grinding it could mean parts are being stripped.
5. Sensor and Code Errors
In new machines, you'll find sensors that help get your clothes washed. Sensors are in almost all newer washing machines including stackable and front-loading models.
You could find code errors in a number of different situations. If you see too much water, cycles stopping, or an excess of bubbles in the window, this could be a sign of trouble.
Your machine repair person is trained to deal with these sensors. You'll need these professionally repaired to keep your machine running.
6. No Water in the Drum
If you go to check your clothes and find them dry, there's a problem. No water in the drum of your machine is a sign of mechanical or sensor trouble.
A professional will turn your machine back on to find the cause of the problem. A sensor or mechanical issue isn't something you should attempt to fix yourself.
7. Your Spin Cycle Doesn't Spin
If your washing machine isn't spinning, it doesn't necessarily mean it's time for a new one. This could be a simple fix your professional can detect. Having a professional come to inspect your washing machine could give your machine a few extra years.
Your machine needs the spin cycle in order to get the clothes cleaned properly and remove water from your drum.
8. The Washer Starts and Stops at the Wrong Times
If your machine is constantly needing to be stopped and restarted, this could be a sign of sensor problems. This could also signal mechanical distress or a broken part.
You shouldn't need to manually start or stop your washer. Doing so could cause further part damage or excess wear.
9. Plumbing Issues
Plumbing issues could also be to blame for problems with your washer. After a professional assessment of your machine, you could also enlist the help of a professional plumber to fix any underlying problems.
10. Something New Comes Up
Anytime something new comes up with your washer, you could have a bigger problem. If your washing machine starts to do something new or make a new noise, it's time to call in a pro.
This could be a sign of a mechanical problem or a sensor. These parts get worn over time, new noises or malfunctions are your machine's way of telling you something isn't right.
Washer Repair Service Near Me
Is there a washer and dryer repair service near me? If any of these issues sound like yours and you live in the Las Vegas area, call us for washer repair service sooner than later.
If your machine isn't working properly, the longer you wait, the more it could cost you. A part could be inexpensive to replace, for example, and it could give you years longer on your washing machine.
Give us a call or fill out this contact form here to get your washing machine back on track. We're here to find out what is going on and get you back up and running.
Schedule Appliance Repair
© 2017-2023 ApplianceRepairInLasVegas.com
– All rights reserved. –
Information on this website may not be re-used without prior written consent from Appliance Doctor.
Monday-Friday: 8:00am to 6:00pm
Sat/Sunday: Closed Normal Appointments
Emergency Client Service Available
Nevada Licensed & Insured
Appliance Repair & Commercial Refrigeration