Appliance Doctor Appliance Repair Blog
Appliance Repair Articles from Las Vegas, NV
What You Need to Know About Hiring Refrigeration Repair Services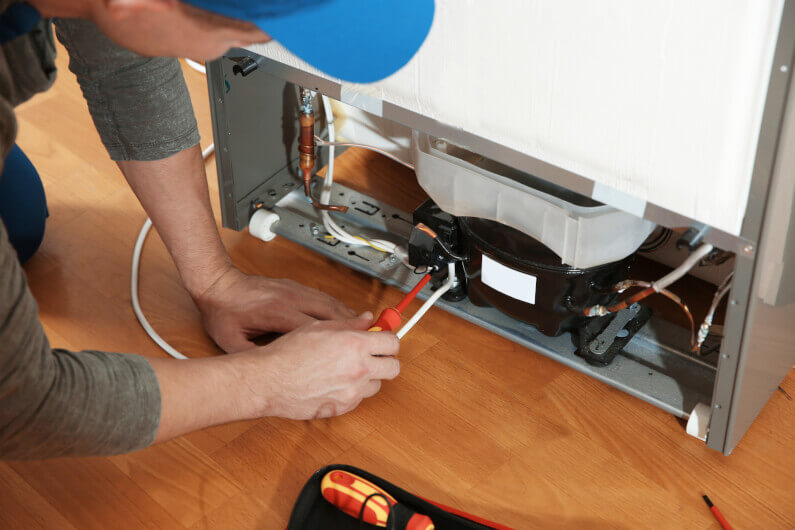 Are you experiencing functionality problems with your refrigerator? If yes, it's time to call in refrigeration repair services.
In as much as your appliances guarantee you longevity, they're bound to fail at one point. Due to such situations, the appliance repair market within the US has a value of $5 billion in 2021. The market size attracts businesses, ensuring saturation with options competing to serve you.
You'll need refrigeration repair services you can count on to enjoy perks including: increased safety, peace of mind, and increased lifespan of your equipment.
The many options make choosing fridge repair services overwhelming. Hacking the refrigerator repair services choice is invaluable in ensuring you get satisfaction.
Read on to learn what you need to know about hiring refrigeration repair services.
Licenses and Special Certificates
For your residential or commercial refrigerator repairs, your provider needs all the proper licenses.
Your state requires refrigerator repair services to have the necessary licenses before operations. Research your state's licensure requirements to know what to look out for in your provider.
Appliance manufacturers understand what they make, thus offering certifications to authorized repair services. Check these special licenses to ensure they're well qualified to handle your refrigerator. Alternatively, call your refrigerator's manufacturer and ask about any certificates needed for the faulty equipment.
Check on the Insurance
In as much as your equipment is faulty, it is still precious to you. What happens when the professional damages it or experiences injuries within the repair? Make sure that your refrigerator repair services have the right insurance.
Accidents on the job are inevitable, even for professionals. Having insurance will offer you peace of mind.
You'll want the provider's safety guarantee while working. Thus, insurance is imperative.
Check for the legitimacy of the insurance and what it covers. You'll be glad you did in the event something happens.
The Experience Levels
Experience matters, more so when dealing with advanced appliances. Your fridge repair deserves a service provider that is well versed in handling them.
Check on the number of years that they have been in business as one aspect of the experience. Extended periods on the same job ensure knowledgeability, guaranteeing you impressive results.
You'll also need to focus on whether they've handled an appliance like yours before. Refrigerators are different, and you'll want quality service. You get it only when the service provider knows what they're doing.
Before hiring, ask your refrigerator repair company about their experience in the industry.
Focus on Service Cost
How much will the refrigerator repair cost you? Service cost fees are critical since they're able to interfere with your budget. Your refrigerator repair services have to be affordable and get you the value you deserve.
Get several quotes from different repair service providers and compare them to get the best price. Consider total expenses that get you the value in the services offered. It is invaluable that you contact the company and negotiate for possible discounts.
You, however, don't need to make the cost a deciding factor, since it should be aimed at assisting you with the selection.
Do They Offer Warranty on the Repairs?
Have you experienced issues with your refrigerator issues before? Faults in functionality don't always go away in one repair. Getting a warranty on the repairs can be invaluable, since you get to save on successive repair costs.
Warranty on repairs should be included in the agreement to ensure that any issues within stipulated periods will be handled cost-free. Check on the details within the repair warranty to ensure that it's meant to serve you well.
Warranties are an indication of confidence in the repair works. Ask the repair company for a warranty if they don't offer it first, and they'll most likely offer you one.
Consider Timeliness
Time is a precious resource, even more, when your commercial refrigerator is faulty. You'll need a refrigerator repair service that is quick to your rescue when you need them.
Consider the local options since they technically are conveniently suited to reach you. Local refrigerator repair services that are quick responders can save you from losses of your produce going bad. You wouldn't want losses, right?
Look through the areas served by your refrigerator repair service near me.
Emergency services are always ready to help you restore your refrigerator in full operation fast, which is necessary for you.
Do They Have Adequate References?
How well do you know your refrigerator repair service options? If it's your first time working with them, checking through the references is necessary to make a good choice.
References are garnered over time and come from previous clients. You'll need to request a sufficient number of referrals to evaluate their ability to serve you.
Check their online reviews as well as you choose to be thorough about your solution. Be wary of the fake reviews and only seek legitimate ones with trusted review websites.
Get Original Replacements
Your repair works have to be enough to avoid repeat in the near future. Getting original replacements for the repairs assists in meeting this task perfectly.
The refrigerator service provider, with manufacturers' authorization, will access the parts with ease, ensuring you get premium service. They also know how to check original and counterfeit replacements.
Your refrigerator repair service has to use original replacements for damaged parts, hence wholly dealing with the problem.
Consider the Above Factors When Hiring Refrigeration Repair Services
Hiring refrigeration repair services can be a daunting task because of the many available options. The above factors help you in your selection when hiring refrigeration repair services.
Are you wondering, "Is there a refrigerator repair service near me?" If so, Appliance Doctor is your go-to appliance repair service with over 15 years of experience within Las Vegas. We're committed to providing all our commercial and residential customers with affordable, honest, straightforward appliance and refrigeration services.
Contact us today to receive same-day service.
Schedule Appliance Repair
© 2017-2023 ApplianceRepairInLasVegas.com
– All rights reserved. –
Information on this website may not be re-used without prior written consent from Appliance Doctor.
Monday-Friday: 8:00am to 6:00pm
Sat/Sunday: Closed Normal Appointments
Emergency Client Service Available
Nevada Licensed & Insured
Appliance Repair & Commercial Refrigeration