Appliance Doctor Appliance Repair Blog
Appliance Repair Articles from Las Vegas, NV
Why Is My Dishwasher Leaking?: 5 Common Causes of Dishwasher Leaks (and What to Do About It!)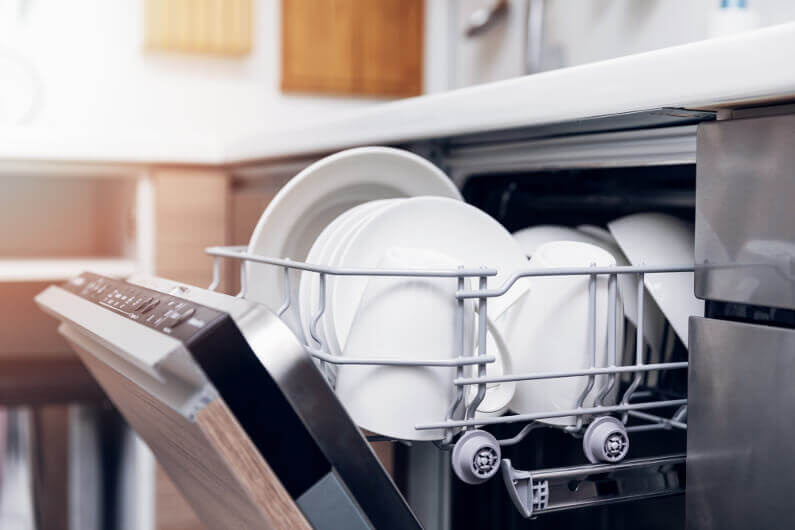 Your dishwasher is an important part of your kitchen. Instead of spending hours washing the dishes, it allows you to spend more time doing the other important things in your home.
But when you notice problems taking place during or after a cycle, you need to take action as soon as possible. It can save you money and time later on.
Have you been asking yourself, "why is my dishwasher leaking?" If so, here's 5 reasons why and how to fix them.
1. Using Improper Detergent
One of the easiest fixes and least alarming causes is ensuring that you're using the proper dishwasher detergent.
It may not seem like this could be the reason that your dishwasher is overflowing, but it can have a huge impact on it.
If your dishwasher is overflowing, you should check that the proper detergent was used. Using dish soap is a huge problem as it can bubble up easily and cause a leak.
The fix for this is quite simple to do. Be sure not to use the wrong soap again, and the leaking should stop. Unlike the other issues on this list, you probably won't need professional service to get this issue fixed.
2. Your Unit is Drawing Too Much Water
Sometimes, a leak can be caused by your unit taking in too much water. When it does this, it may not drain all the water. This in turn causes your dishwasher to leak.
When this happens, it's usually caused by your drain. It may not be working properly as it should.
If it isn't a drain problem, then it could be an issue with your valve. Your inlet valve works to control the water that's coming into your system.
A good way to test if this is the problem is to open up the door while you're putting it through a regular cycle. If the water stops flowing, it's not an inlet valve issue.
However, if it doesn't, then it is caused by your inlet valve.
When you notice a leak caused by this, it's important to call in a professional as soon as possible. They'll be able to confirm that it is in fact an overfilling issue and not something else. They will also replace the parts needed to get it back into working order again.
3. Filter Problems
Have you ever started a cycle expecting your dishes to come out clean, but once it's finished, you're greeted by dirty dishes once again? While this is an issue, it can also get worse.
A clogged filter can be one of the causes of your dishwasher leaking. It usually occurs when there's food built-up on the filter. With nowhere to go, the water stays in the dishwasher and leaks out.
As part of your maintenance, you should make it a habit to clean out your dishwasher's filter every now and then. It benefits from this by cleaning your dishes well and preventing leaks in the future.
4. Drain Hose Problems
Your drain hose plays a big role in helping the water to drain from the unit. Without it, the water would never leave your dishwasher.
There are two common problems that can happen with drain hoses. One is that the drain hose can come loose, allowing water to drip out and leak on the floor. The second is that the hose can break or crack, which also allows the water to escape.
One tell-tale sign is that you'll find the water underneath the dishwasher if this is the issue.
In the best-case scenario, a loose drain hose can be tightened. This will seal it properly so that no more water will escape.
If it's an issue with a damaged drain hose, then you'll need a full replacement.
Both can be done by a dishwasher repair service.
5. Gasket Seal Issues
On your dishwasher door, there is a seal that keeps the water in during a cycle. This is known as the gasket seal.
As it ages, the seal can become brittle and start cracking or breaking in certain areas. When this happens, the door will no longer seal correctly and water will start to escape from the machine.
If this is the problem, you'll notice that the water is escaping through the sides of the door.
To fix this issue, you'll need a gasket seal replacement. This is something that an appliance repair specialist can do for you.
Why Is My Dishwasher Leaking? Other Things to Consider
These 5 common causes of a leaking dishwasher are important for you as a homeowner to know. Being able to catch the problem before it can get worse is very important so that you can get it fixed right away.
When looking for the cause, you should take caution. Remember to never work on any electrical components on your own. It's easy to get injured while trying to find the problem.
Try to have your user manual stored in a safe place. This is a good idea for any appliance that you own.
When you have a leaky dishwasher, your user manual is important to refer to. You'll want to have it nearby for both yourself or the service technician who is working on the appliance.
To avoid taking any risks while trying to find out the issue yourself, it's best to call a professional. At Appliance Doctor, our technicians are trained to perform repairs on many different appliances.
They can help you take the guesswork out of finding the issues and repair them fast.
Call the Pros for Your Leaky Dishwasher
Catching water around your dishwasher can leave you questioning yourself, "why is my dishwasher leaking?" Now that you have the answers, you can look out for these common causes every day.
When you notice that your dishwasher is leaking, you want to make sure that you have a qualified repair service on speed dial. Here at Appliance Doctor, we can repair a leaky dishwasher and other appliances throughout your home.
Are you interested in having your dishwasher repaired? If so, give us a call today to book your appointment!
Schedule Appliance Repair
© 2017-2023 ApplianceRepairInLasVegas.com
– All rights reserved. –
Information on this website may not be re-used without prior written consent from Appliance Doctor.
Monday-Friday: 8:00am to 6:00pm
Sat/Sunday: Closed Normal Appointments
Emergency Client Service Available
Nevada Licensed & Insured
Appliance Repair & Commercial Refrigeration